Set a clear goal of becoming fluent in Arabic
What are your goals?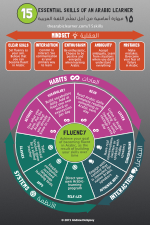 This article is based on the 15 Essential Skills of an Arabic Learner.
What is your goal in wanting to learn Arabic? As you begin your journey, where do you picture yourself when you finish? If you are already on that journey – at any level – where do you see yourself finishing? Have you ever thought about what finishing would look like?
Setting a clear goal in your mind that you CAN and WILL become fluent in Arabic. This is one of the most important foundational beliefs that you need as you approach learning the language.
By setting the goal of being fluent, all of your activities that follow will have purpose and focus. And yet it is amazing to me how many people approach learning Arabic without having a clear vision of themselves becoming fluent. Continue reading "Set fluency as your aim"