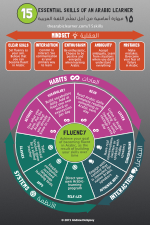 Use what you have already learned in Arabic immediately. One of the dangers that some people fall into is growing in their knowledge of vocabulary, grammar, or pronunciation, but never taking initiative to actually use it in real life. If you make a daily habit of using your Arabic in some small way, you will have broken the inertia of passive learning and will be actively increasing your Arabic level.
"To keep [Arabic] in your head, you have to use it." (David Wilmsen)
This article is based on the 15 Essential Skills of an Arabic Learner.
Habits for learning Arabic
What habits do you have that are helping you learn Arabic? What habits do you wish you had?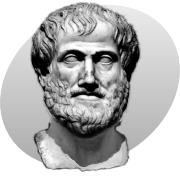 Aristotle said, about habits, "We are what we repeatedly do. Excellence, then, is not an act, but a habit". 
This week, I'll begin to discuss some of the daily habits that make up a solid Arabic learning strategy. With the right mindsets in place, choosing what you will repeatedly do will form habits of excellence in you as an Arabic learner.
Over the past weeks I have discussed the five key mindsets that are essential skills of an Arabic learner. These include setting fluency as your aim, committing to interact, being enthusiastic, accepting ambiguity, and making mistakes. I call them skills because they are mindsets that are intentionally developed through conscious effort, not gifts that are endowed on random people. Each of these mindsets came up repeatedly as I discussed learning Arabic with 6 thought-leaders in the field of teaching Arabic. If you develop these mindsets, you will be positioned to learn Arabic effectively.
What I am trying to do with this applied research and discussion is to help you form a learning strategy for acquiring Arabic. If you have not yet read the overall strategy given in The 15 Essential Skills of an Arabic Learner, I recommend that you download that now and skim through it. Then come back to this post.
The first habit is to activate the Arabic you learn by using it daily. This post is going to give you 21 ideas that you can put into action today to begin to use your Arabic. Continue reading "24 ideas to activate your Arabic today"