Arabic classes – how to choose what works for you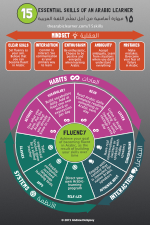 Take organized Arabic classes given by a skilled instructor, in order to be able to follow a learning curriculum that has been set by someone who has experience in facilitating Arabic language learning. Classes provide a framework that can dramatically accelerate your progress in all areas of Arabic. They also provide feedback and evaluation, which are essential to prevent the recurring mistakes we make from becoming a permanent part of our language (a process known as "fossilization"). These classes can be in person or online.
"In class they are going to show you why it works this way, or why it shouldn't work this way but perhaps does…" (David Wilmsen)
This article is based on the 15 Essential Skills of an Arabic Learner.
Experiencing Arabic classes
Over the past months I have been writing about mindsets and daily habits that can help you become a more effective Arabic learner. This week I will shift gears into the next section of the 15 Skills of an effective Arabic Learner, and begin to look at organized Systems that can help you learn more effectively.
Perhaps the most common system that we think of, when it comes to learning any language, is the classroom.
In a best-case scenario, a classroom provides:
a set of objectives and a framework for your learning that lets you make systematic progress toward your Arabic goals
a skilled teacher who knows the obstacles and hurdles that you will face at given points along the way
immediate feedback on your Arabic that is friendly and gentle, making you feel empowered to improve
ongoing evaluation of your overall progress that is clear and encouraging
an experience that is centered on you and your fellow students
all of this in an environment that is enjoyable, not stressful, and worth the financial investment you have made
If your Arabic class provides you with all of these things, please stop reading this blog post right now and take a minute to write a thank you note to your teacher. Then continue reading.
If your current experience does not match this, then you are in the same situation as many learners who take Arabic classes. Unfortunately, although we all hope to have good class experiences, it doesn't always work out that way. Continue reading "Arabic classes – how to choose what works for you"