Shem el-Nissim (شم النسيم) is an Egyptian holiday that celebrates the coming of spring each year.  We just got back from our annual Shem el-Nissim trip up to my wife's family's beach house on the Suez Canal.  Sunshine, water, an old rowboat, my awesome teenage kids, tons of food, and a generally fun spring atmosphere.  Here's some Arabic words that came up a lot this weekend (Egyptian Arabic ones marked with a *):
al-rabii3 (الرَّبِيع) – springtime
ig-goww* (اِلْجَوّ) – the weather
al-baHr (البَحْر) – the sea
fesikh* (فِسِيخ) – smoked herring
basal (بَصَل) – onions
kull sana w'inta Tayyeb* (كُلّ سَنَة وِ انْتَ طَيِّب) – a good wish given to others on any occasion that comes annually (birthdays, holidays, etc.).  Translates to something like "may you be in goodness every year".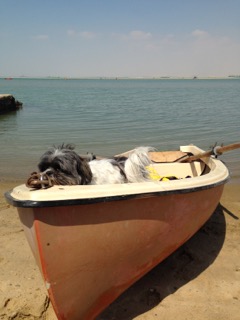 Our trusty rowboat, and yes that's also our trusty dog Pepper, who loves the sea!
Fesikh and ringa! Smoked herring, served with piles of green onions and lots of lemon.