Learning Arabic in the everyday things
Learning Arabic has been a long journey for me.  As I share resources, tips, and insights on this blog to help people in their own journey to speak, understand, read, and write Arabic, I thought I would share some of my milestones that I passed.
If you are getting to know me, I arrived in Egypt in 1991, on a year abroad from the University of Toronto in Canada.  I was studying in a linguistics program (which later shifted into the Department of Near and Eastern Civilizations, since I overloaded my credits with Arabic courses!) and wanted to learn a "different" language.  My friends were taking years in places like France, Spain, or Germany.  I though through the places in the world that interested me, and decided to study in Egypt.  I've been here since.
Thinking back over how I started learning Arabic, I can think of a few milestones in my progress.
New in Egypt
On my first day in Egypt, I went from my apartment to the place I would study:  the American University in Cairo.  I was signed up for a year of learning Arabic in their Arabic Language Institute (now the Department of Arabic Language Instruction).  I walked through some crazy traffic, found my way to Tahrir Square, and eventually discovered the old campus of AUC.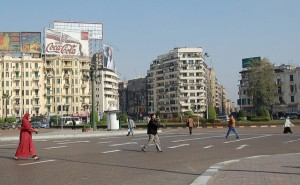 Continue reading "Learning Arabic – Milestone 1"